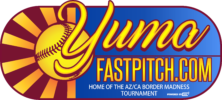 Excited to lead Yuma Fastpitch!
So Thankful to Joel Olea for presenting me with this opportunity to acquire Yuma Fastpitch.  It has been a true blessing. I have always looked towards Yuma as a great opportunity for the continued growth of this great game.  As evident, The Pacific Avenue Athletic Complex was approved and the city is already in high gear to have it completed by September of this year.  Great things are headed for the Yuma softball community.  Our goal is to continue the great service Joel provided and to continue with more opportunities for our Student/Athletes .
Joel will remain with Yuma Fastpitch and Chief Umpire Jesus (Chuy) Ontiveros will continue leading our Umpire Division.  I bring along two of my associates; Joe Nunez and Javi Rojas.  Altogether, we are grateful to the City of Yuma and to the softball communities of Yuma and the Imperial Valley.
This month we are hosting two events on March 18, 2017:
Howard Kobata Clinic              900am-1100am
Howard will be flying in from Hawaii to host clinics in the Southwest region. I told him we needed to make Yuma, AZ. a regular stop for him.  He agreed and will be ready to train our Student/Athletes.
Free Hitting Clinic                    900am-1100am
Hitting Clinic will be geared for 8U-12U Prospects
If you have a chance, come on out and say "Hi"!
Thank you for your continued support!!!!
Coach JJ